Hello! Welcome to my Animism Ning Page, and to the Animism Ning.
I started this Ning to increase 'connectivity' in the burgeoning Animist and PostPagan community. Lets hope it works!
I'm a musician and instrument maker living in East Dorset. Nice to meet you!
My partner Kate is also a musician, she has a
CD out called Fruit
. You can check out the instruments I make and some of our music
on our website,
or you can download and listen to Damh the Bard's Druidcast, click on the link in the RSS box on the left. In epoisode 33 you can hear Kate and I playing a couple of numbers at the OBOD Midwinter Gathering under our duo name Rigantona. In episode 31 we play a seasonal Soul Caking song for Samhain. We also guest on Damh's latest CD
Tales from the Crow Man
.
My partner Kate and I run a similar group (and similarly named) to this based in East Dorset, called The Bear tribe.
The Bear Tribe run a midwinter camp with an Animistic focus, based on the ancient Bear Feast traditions found all around the Northern Hemisphere. Its fully residential and held at our local Ancient Technology Centre which has fantastic reconstructions of ancient buildings.
This group has its own website.
The Bear Feast 2009 was a big success despite the freezing temperatures and the fact that the Longhouse wasn't yet finished, and had no doors! We had Graham harvey, author of Animism, respecting the Living World, as our speaker, and Michael Ormiston, Candida Valentino and storyteller Cliff Eastabrook as our entertainers. I'll post some pictures on my blog page here.
Kate and I are also keen long distance walkers and habitual pilgrims, pilgrimage is a wonderful way to get in touch with our ancestors rythmn of life, and with the land across which you walk.
See you around!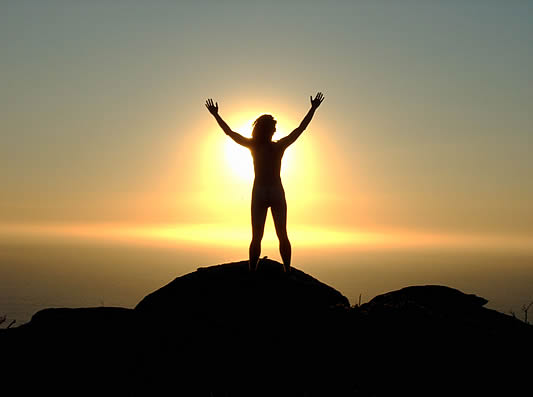 Yours Truly at Finisterra after our pilgrimage to Santiago de Compostela.
Visit Animism